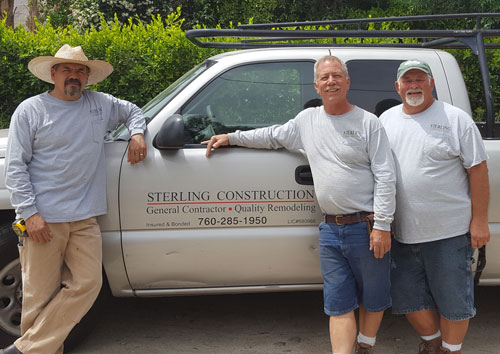 A TRADITION OF EXCELLENCE
We are a team of skilled and licensed sub-contractors whose work meets high standards and we stand behind their work.
Jeff Elkins, our founder, personally supervises each job site on a daily basis to assure that the clients expectations are met or exceeded.
Work sites are maintained in a clean and safe condition for minimum inconvenience to clients.
Sterling Construction is proud of its professionalism and results.  Jobs are completed on schedule and on budget, allowing for unforseen circumstances in existing structures and/or changes made by clients during construction.
Although very infrequently needed, warranty work is done promptly.
As clients can attest (see testimonials below), we pride ourselves on attention to detail for a client's complete satisfaction.
Over the years our passion for quality construction has continued to grow
Sterling can arrange for Design, Architectural, and Structural Plans if the Client wishes a package from Planning, Permitting, to final execution.
If you have any questions please call for a free evaluation.  760-285-1950
Testimonials
Hear what past clients say about Sterling Construction...
Dear Jeff,

I wanted to take a moment to thank-you for the completion of my exterior from entry remodel project.  Although not a large project, there were a good number of "moving parts" as it were and you did a great job of not only coordinating everything superbly, but also stuck to all of your time commitments.

Most importantly, for me, the project "looks" exactly as I had envisioned it.  Your ability to listen to my requests and interpret them - even when surprise changes happened to come along - was spot on.  The quality of materials used and the competency of your workers helped to make the days the construction was going on pretty easy and the finished product truly "sterling".

Without hesitation I would be happy to refer you to anyone who has a project they are considering and please don't hesitate to have anyone contact me who is talking with you about a possible job.

Can't say thanks enough.

Sincerely and with appreciation,
David Bowe
Cathedral City, CA
We would like to thank you for the excellent work that you carried out at our new home.  The improvements that we worked through together have greatly enhanced our home with the quality and workmanship provided by you and your staff.  It should last us through the lifetime of the property.  We were especially  impressed with your straight forward, honest approach combined with your generally easy going attitude.  We could easily see that your personal care and leadership on the job made all the difference. It was a pleasure working with you and all members of your team as the job progressed from the planning stage, to execution and final completion.  We were also impressed with the care you took to keep the job site clean and organized even though we had several sub-projects and areas for construction all around the home.  We have been through several remodeling projects at different homes and this was by far the best experience.

Thank you again for a job well done, on time, on budget and at a low stress level.

Dave Kotchick and Bill McPike
Mr Dave Kotchick and Mr Bill McPike
Owner
My Team
The Sterling Construction Core Team